CURE and the Digital Studies Center cordially invite you to attend the Screening and Discussion of: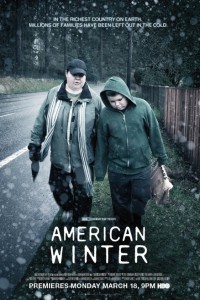 Documentary feature film that follows the personal stories of families struggling in the aftermath of the worst economic crisis since the Great Depression. Filmed over the course of one winter in one American city, the film presents an intimate snapshot of the state of the nation's economy as it is playing out in millions of American families, and highlights the human consequences of the decline of the middle class and the fracturing of the American Dream.Directors: Harry Gantz, Joe Gantz
Discussant:  Joe Willard | Vice President, Policy
People's Emergency Center | 325 N. 39th Street | Philadelphia, PA 19104
Friday, September 26, 2014 – 12:00pm – 2pm
Faculty Lounge, 3rd floor, Armitage Hall
Lunch will be provided
~~~~~~~~~~~~~~~~~~~~~~~~~~~~~~~~~~~~~~~~~~~~~~~~~~
The event is free and open to the public.  No registration is required. 
Visitor Parking
Parking in Rutgers–Camden lots is by permit only. Visitors to Rutgers–Camden should obtain a temporary permit to park in a lot from 8 a.m. Mondays through 5 p.m. Fridays.
Contact Parking and Transportation for more information.
Parking and Transportation
(within the Rutgers University Police Department)
409 North Fourth Street
856-225-6137
Please visit these sites for directions to campus and to view a campus map