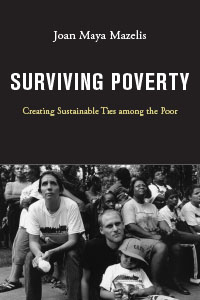 Surviving Poverty: Creating Sustainable Ties among the Poor by Joan Maya Mazelis
304 pages. ISBN: 9781479870080
Surviving Poverty carefully examines the experiences of people living below the poverty level, looking in particular at the tension between social isolation and social ties among the poor. Joan Maya Mazelis draws on in-depth interviews with poor people in Philadelphia to explore how they survive and the benefits they gain by being connected to one another. Half of the study participants are members of the Kensington Welfare Rights Union, a distinctive organization that brings poor people together in the struggle to survive. The mutually supportive relationships the members create, which last for years, even decades, contrast dramatically with the experiences of participants without such affiliation.            
Dr. Mazelis will be giving a CURE seminar to discuss her book on Friday, February 3 at 12:15pm. The event will take place in the 3rd Floor Faculty Lounge in Armitage Hall.
Download the view the full Spring 2017 CURE Seminar Series schedule here (pdf).

In interviews, participants discuss their struggles and hardships, and their responses highlight the importance of cultivating relationships among people living in poverty. Surviving Poverty documents the ways in which social ties become beneficial and sustainable, allowing members to share their skills and resources and providing those living in similar situations a space to unite and speak collectively to the growing and deepening poverty in the United States. The study concludes that productive, sustainable ties between poor people have an enduring and valuable impact. Grounding her study in current debates about the importance of alleviating poverty, Mazelis proposes new modes of improving the lives of the poor. Surviving Poverty is invested in both structural and social change and demonstrates the power support services can have to foster relationships and build sustainable social ties for those living in poverty. 
REVIEWS
"Surviving Poverty eschews easy generalizations about how poor women manage their circumstances. In a richly detailed study, it paints a complex picture in which people differ widely in their attitudes about mobility and about getting help from others and in their use of social networks to manage the difficulties of poverty. Rejecting a narrative that blames the victim, Mazelis depicts people who exercise agency in their lives and whose complex attitudes about social support networks resist easy explanation. A must-read study for anyone concerned with policies that take into account the role of networks in how people manage poverty."

—Mario Luis Small, author of Unanticipated Gains: Origins of Network Inequality in Everyday Life

"A compelling narrative of a remarkable poor people's movement that builds sustainable ties that are vital to survival while providing an antidote to crippling self-blame. This book is jam-packed with essential insights for anyone–scholars, students, practitioners, advocates–who cares about America's poor."

—Kathryn J. Edin, co-author of $2.00 a Day: Living on Almost Nothing in America
Surviving Poverty