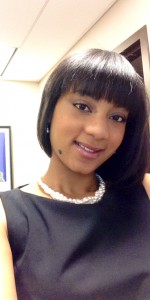 Danielle Davis is a graduate student in the Master's of Public Administrations (MPA) program at Rutgers University, Camden campus.
Prior to starting her graduate studies, Danielle received her Associates degree in Paralegal studies at Berkeley College. After completion, she transferred to Rutgers, Camden where she obtained her undergraduate degree in Liberal Studies with a minor in Criminal Justice. Upon graduation, Danielle acquired a position with the State of New Jersey as a Litigation Paralegal in the Department of Children and Family Services.
After four years of superior service to the State of New Jersey, Danielle began a career in Washington, DC. In her position as a Trial Clerk with the United States Tax Court she successfully traveled to over 70 cities throughout the United States to assist the Judges and Special Trial Judges of the United States Tax Court. Luckily, she found her way back to the MPA program at Rutgers Camden where she currently serves as the Vice President of the Public Administration Student Association (PASA).
Danielle anticipates graduating with her MPA degree in May 2015.