Lucy Vandenberg
Executive Director, PlanSmart NJ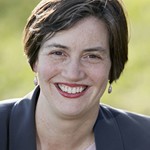 "State Planning, Open Space Preservation, and Urban Revitalization"
 Wednesday, April 17, 2013 – 12:20pm
Faculty Lounge, 3rd floor Armitage Hall
Lunch will be provided

Lucy I. Vandenberg joined PlanSmart NJ as its Executive Director in the Spring of 2011. She has a broad background in land use planning, community development, housing, and urban revitalization. She is a licensed professional planner. Lucy Vandenberg most recently served as Planning and Redevelopment Aide for Mayor Dana L. Redd in the City of Camden. Her focus included creating new energy-efficiency programs for the City and developing a strategy to revitalize abandoned properties.
Previous to this, Ms. Vandenberg was the Executive Director of the NJ Council on Affordable Housing (COAH) from 2003 until 2010, where she supervised a staff of 25. Ms. Vandenberg reviewed and approved municipal affordable housing plans and local land use ordinances for over 300 municipalities participating with COAH, the state agency established by the NJ Fair Housing Act of 1985 to implement the Mt. Laurel Supreme Court affordable housing decisions. Earlier in her career, she served as the Senior Policy Advisor for housing and urban revitalization in Governor James E. McGreevey's administration.
From 1997 to 2002, Ms. Vandenberg worked in the non-profit sector, serving as the Associate Director of the Housing and Community Development Network of NJ, a statewide association of affordable housing and community development organizations working to build communities. She has a master's degree from Rutgers University and a bachelor's degree from the University of Michigan. Ms. Vandenberg is a member of the Board of Directors of Preservation New Jersey and serves as a member of the Mercer County Open Space Preservation Board.
Please click here for the event flyer.