Dr. Jargowsky accepted the invitation to serve a 3-year term on the editorial board of the prestigious peer-reviewed academic journal Housing Policy Debate.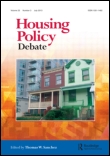 The journal provides a venue for original research relating to U.S. housing policy. Subjects include affordable housing policy, fair housing policy, land use regulations influencing housing affordability, metropolitan development trends, and linkages among housing policy and energy, environmental, and transportation policy.
Housing Policy Debate is published quarterly. Most issues feature a Forum section and an Articles section. The Forum, which highlights a current debate, features a central article and responding comments that represent a range of perspectives. All articles in the Forum and Articles sections undergo a double-blind peer review process. On a recurring basis, Housing Policy Debate also features an Outlook section where the editors, occasionally with expert guest writers, comment on emerging areas of housing and metropolitan research or current events.