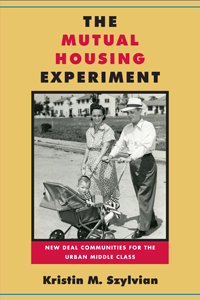 "Mutual Housing in the Delaware Valley"
Mobilization for World War II transformed the Delaware River Valley into a giant housing laboratory.  Audubon Park, Bellmawr Park, and Pennypack Woods were built in 1941 as part of a special federal government-Congress of Industrial Organization (CIO) program for workers who could not afford home ownership. The three communities functioned as testing grounds for "mutual" or cooperative home ownership and new ideas in community planning, modern architecture, and mass-production building methods.
Kristin M. Szylvian is an Associate Professor of History and Library and 
Information Science, and Public History graduate program director at  St. 
John's 
University.
Friday, September 4, 2015 – 12:15pm – 1:30pm
Private Dining Room, Campus Center
Lunch will be served
This event is also a book-signing event where books will be available for purchase and the author's signature. 
~~~~~~~~~~~~~~~~~~~~~~~~~~~~~~~~~~~~~~~~~~~~~~~~~
CURE seminars are free and open to the public.  No registration is required. 
Visitor Parking
Parking in Rutgers–Camden lots is by permit only. Visitors to Rutgers–Camden should obtain atemporary permit to park in a lot from 8 a.m. Mondays through 5 p.m. Fridays.
Contact Parking and Transportation for more information.
Parking and Transportation
(within the Rutgers University Police Department)
409 North Fourth Street
856-225-6137
Please visit these sites for directions to campus and to view a campus map