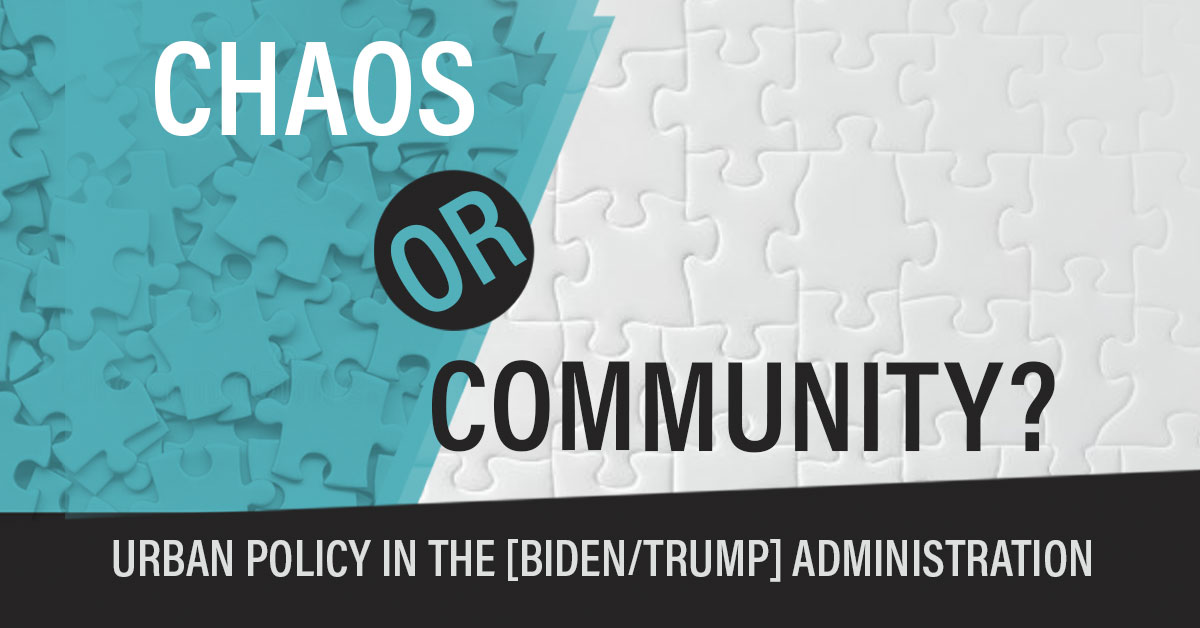 Thursday, November 19, 2020
12:30-1:30 p.m.
Online Zoom.

Registration Required

.
Panelists:
Dr. Algernon Austin
Senior Researcher, Thurgood Marshall Institute
NAACP Defense Fund
Algernon Austin is a Senior Researcher at the Thurgood Marshall Institute. He conducts social science research and writing across a range of areas relevant to civil rights, policy development, public education, and advocacy. He is also involved in building partnerships with other research organizations and individuals. 
More information at https://www.naacpldf.org/about-us/staff/dr-algernon-austin/.
Alan Mallach
Senior Fellow
Center for Community Progress, Washington DC
Alan Mallach is a senior fellow at the Center for Community Progress in Washington DC. A city planner, advocate and writer, he is nationally known for his work on housing, economic development, and urban revitalization, and has worked with local governments and community organizations across the country to develop creative policies and strategies to rebuild their cities and neighborhoods. A former director of housing & economic development in Trenton, New Jersey, he currently teaches in the graduate city planning program at Pratt Institute in New York City. He has spoken on housing and urban issues in the United States, Europe, Israel and Japan, and was a visiting scholar at the University of Nevada Las Vegas for the 2010-2011 academic year. 
More information at https://www.communityprogress.net/alan-mallach-pages-116.php.
Sandra J. Newman
Nonresident Fellow
Urban Institute
Sandra Newman is a nonresident fellow in the Metropolitan Housing and Communities Policy Center at the Urban Institute. She is professor of policy studies at the Johns Hopkins University, where she directs the Center on Housing, Neighborhoods, and Communities at the Hopkins Institute for Health and Social Policy in the Bloomberg School of Public Health. She holds joint professorial appointments with the department of sociology and the department of health policy and management. Newman's interdisciplinary research focuses on the effects of housing and neighborhoods on children and families and on the dynamics of neighborhood change. Her current research includes studies of the effects of key housing attributes, such as affordability, tenure (owning versus renting), and receipt of housing subsidies on the life outcomes of children and adults; racial disparities in the effects of the tumultuous 2000 decade on young adult household formation; and the Housing and Children's Healthy Development Study, a new longitudinal survey that includes a housing voucher experiment.
More information at https://www.urban.org/author/sandra-j-newman.
About the Seminar
Cities in the US are at a crossroads, with a severe lack of affordable housing, exclusionary zoning in the suburbs, persistent racial and economic segregation, rising homelessness, and a steep increase in evictions. In "hot market" cities, these problems coexist with rapid gentrification in favored corridors, often leading to displacement and a loss of affordable units. As Martin Luther King, Jr., asked, "Where do we go from here – Chaos or Community?" CURE, as part of our ongoing webinar series, is presenting a panel discussion on the priorities for programs and policies to address urban and metropolitan problems. Our panelists, noted urban policy experts from different backgrounds and perspectives, will share and debate their visions for what urban policies and practices should be pursued during the next administration at the federal, state, and local levels. In addition, panelists will discuss ways to address the housing needs of low- and very low-income residents, based on their experience and different vantage points (academia, policy circles, city government, and grassroots organizations).