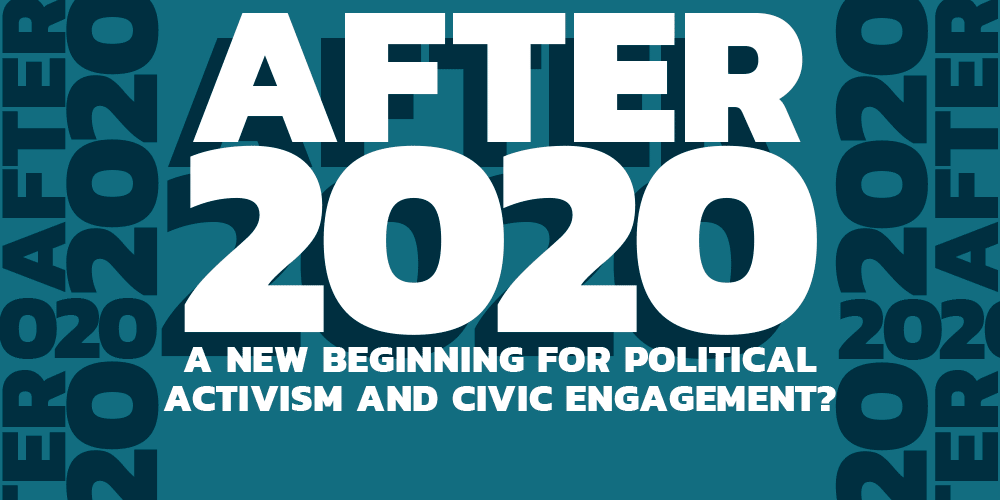 "After 2020 – A New Beginning for Political Activism and Civic Engagement?"
Thursday, March 4, 2021 from 12:30 – 1:30 p.m.
The past few years have been a period of dramatic and consequential political change, on a local as well as a national level. Many first-time candidates for federal, state, or municipal offices spectacularly defeated their establishment-supported opponents; many communities across the U.S. experienced record-high voter turnouts in the November election; and the increased participation of Black and Latino voters had a decisive influence on election outcomes in many states and legislative districts.
New vehicles for promoting political activism, such as Indivisible and the Working Families Party became more influential at the same time as new initiatives designed to reduce voter participation were introduced in legislatures across the country.
What can be learned from the political turmoil of the past years about the prospects for creating a better informed, more fully engaged electorate in the future? In a roundtable conversation, John Kromer, Lorraine Minnite, and Shauna Shames will discussed their research on voting trends, electoral rules, and the influence of gender, race, and ethnicity on political candidacies and election outcomes, with particular reference to urban communities. They were joined by Rutgers-Camden undergraduate students Oriana Holmes-Price, Political Science major, Adrian Rentas, Urban Studies and Community Development major, and Jose Zarazua, Political Science major.
Panelists:
John Kromer is the author of Philadelphia Battlefields: Disruptive Campaigns and Upset Elections in a Changing City (Temple University Press, 2020), has participated in many local political campaigns as a volunteer, election worker, and candidate. He served as Philadelphia housing director during the mayoral administration of Edward G. Rendell (1992-2001) and as interim executive director of the Camden Redevelopment Agency during the state-administered Camden receivership (2006-07). He teaches a fall-semester class in The Politics of Housing and Urban Development at the University of Pennsylvania.

Lorraine C. Minnite is an Associate Professor of Public Policy in The Department of Public Policy and Administration at Rutgers-Camden. Her research focuses on issues of inequality, social and racial justice, political conflict, and institutional change.  Dr. Minnite is the author and co-author of two books on electoral rules and racial and class politics in the U.S., as well as other published work addressing various aspects of political participation, immigration, voting behavior and urban politics. 

Shauna Shames is an Associate Professor in the Political Science Department of Rutgers-Camden. Her primary area of academic interest is American political behavior, with a focus on race, gender, and politics. Dr. Shames has published articles, reports, and book chapters on women as candidates, black women in Congress, comparative child care policy, work/family conflict, abortion, feminism in the U.S. and internationally, gay and lesbian rights, and U.S. public opinion.  She has designed and taught courses on race, class, gender, American politics, women's studies, the history of feminism, freshman writing, and futuristic fiction and has lectured widely on gender, race, and politics.